SRI SRI LAXMI NARAYAN
Lakshmi Narayana is the Supreme Lord, who appears along with his divine consort, Lakshmi devi. Lord Narayan is usually seen holding a conch, mace, lotus and the Sudarshana Chakra. Goddess Lakshmi is seen either standing next to a standing Lord Narayana, or at his service in their heavenly abode of Vaikuntha. Also known as 'Shri' or 'Shridevi,' she is the goddess of wealth and fortune and the very embodiment of auspiciousness and prosperity. It is also said that while Narayana is the protector, Lakshmi is the embodiment of compassion.
As the protector of the universe, the Lord incarnates on earth from time to time, to annihilate evil and to establish dharma, the ultimate righteousness. While Goddess Lakshmi, who is inseparable from him, remains part of him in all these Avatars (incarnations), she also incarnates in a human form and joins the Lord in some such Avatars, and together as Lakshmi Narayana, they fight evil, establish righteousness and ensure the well-being of the people.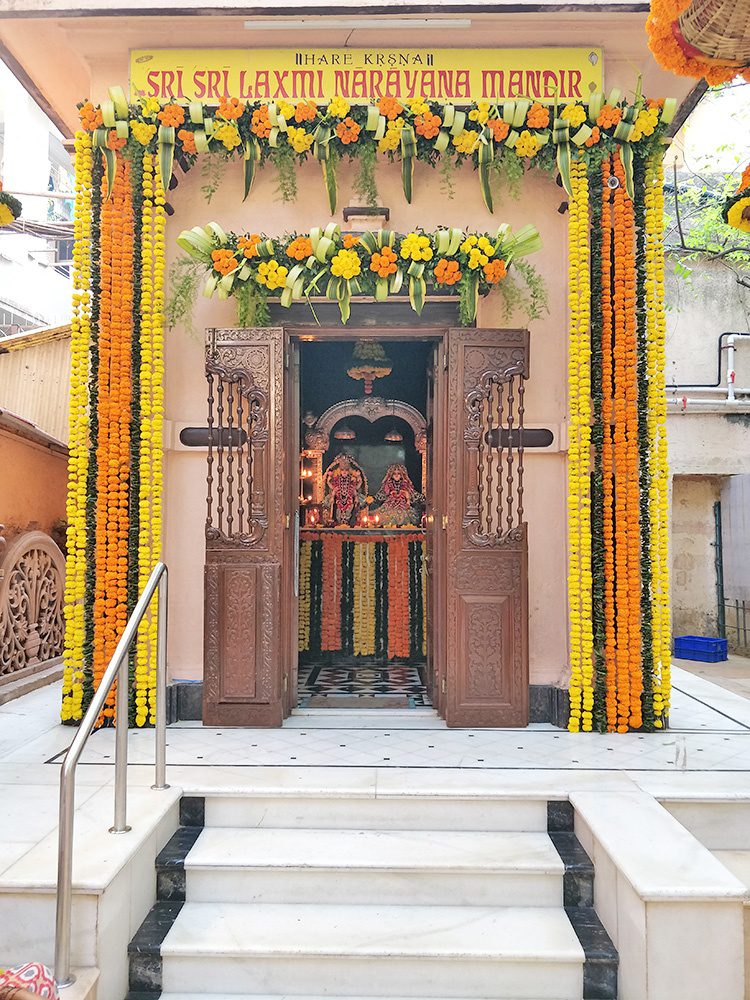 THE HISTORY
Build more than one hundred years ago, the Laxmi Narayan Temple is located on the eastern side of the ISKCON Chowpatty temple premises. In 1902, the trustees of the Lady Northcote Hindu Orphanage (LNHO) built this Laxmi Narayana temple. This was to inculcate spiritual values in the children of the orphanage and the tenants residing in the estate. Since then, the residents of the estate and the neighboring areas have been worshipping these Deities.
Mahatma Gandhi would sometimes visit this temple for his morning prayers while at Mani Bhavan. Gandhi is also reported to have hid from British officers who were out to arrest him, by being locked inside this temple from the outside. In 1995, ISKCON was asked by the trustees of LNHO to take the responsibility of worshipping Laxmi Narayana. The entire temple has been renovated and regular worship is being performed since then.
7:00 am – 7:45 am : Mangal Aarti Darshan
9:00 am – 1:00 pm : Shringar Darshan
1:00 pm – 4:30 pm : Darshan Closed
4:30 pm – 9:10 pm : Evening Darshan
A grand festival for Sri Sri Laxmi Narayan is organised by ISKCON Chowpatty every year, which attracts thousands of visitors from the temple congregation and the neighboring areas. The deities are offered new outfits on the festival day. The temple and Laxmi-Narayan courtyard is decorated with flowers and lights making the area completely beautiful.  Devotees gather for decoration service a day or two before the festival day.
Celebrated usually in the month of Jan/Feb in the main temple courtyard, the festival boasts of an elaborate abhishek of the festival deities of Sri Sri Lakshmi Narayan, accompanied by melodious kirtan, a talk extalling their glories and of course, ending with delicious dinner prasadam. There have been regular visitors for this festival for the last thirty years. This year, the annual Lakshmi-Narayana festival was held on February 1, 2020.